Amsterdam tours
Whether you have one, two, three days or more, Amsterdam has plenty to offer and more than enough to keep you entertained. Use this Amsterdam tours booking website to look through and book various guided tours and day trips.
The canal cruises are a popular way to see the city from the perspective of its canals. There are many kinds of Amsterdam boat tours available. Romantic candlelight dinner, day or evening cruises, trips by boat to nearby garden village of Keukenhof and many more. Just have a look at the tours website mentioned above.
In about 3 hours the bike tour will show you numerous points of interest, offer lots of advise and insider tips and help you develop a great sense of orientation in Amsterdam. But Amsterdam has 214 rainy days a year and many others are cloudy so be avare of that. Bike tour operators count with this and you can cancel your tour up to one day before its scheduled.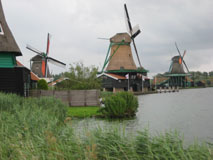 While in Amsterdam we recommend an excursion to nearby towns and villages. Hague being more modern and exciting because of its role as the seat of Dutch parliament and many european institutions. Delft and Bruges are lovely historic canal towns great for evening walks and picture taking, while Zaanse Schans and Volendam are idilic cheese and fishing villages. Bruges and Zaanse Schans are also listed as World Heritage Sites of UNESCO so don't miss this opportunity to see them.
Amsterdam's Red Light District, the oldest neighbourhood with the oldest profession and the oldest buildings will give you good impression of Dutch culture, history and architecture.
The bus brings you to the most famous sights in the city where you can get on or off as often as you like at the five centrally located stops throughout the city. The many presents and discounts that come with your 24 hour ticket make the experience worthwhile for everyone who visits Amsterdam.
City tours around Amsterdam in a traditional American school bus. The bus has been converted to serve the tourists, painted in signal red while its rooftop has been replaced with glass panels so it can be opened on warm days. The bus big windows give a panoramic view over the sights of the Dutch capital. The tour is guided via the headphones. Information (available in 15 languages!) is synchronized with the actual position of the bus in the city using an intelligent, GPS-operated system. A stop with a visit to a dimond factory during the tour.
The Tailor made tours allow you to make your own tours in Amsterdam and the Netherlands. Apart from the custom-made tours, there are also pre-packed deals including major attractions like the Royal palace or museums or special interests including windmills, tulips, architecture, or coffeeshops.
Excursia is Amsterdam pocket audio guide that detects your position using GPS and tells you the relevant short stories about nearby sights. Top quality content created by local people. More than 150 places on multiple languages. All you need is to start the guide, put it in your pocket and discover new places on the fly! Let the city tell its story!
Join the tour and see the major historical sights, explore the Red Light District and get introduced to the unique history and spirit of Amsterdam! The tour runs daily from the meeting point.
Tour of Red lights area with Remon, an independent tour guide who likes to show you all aspects of Red light districts including China town, red light windows area, coffeeshops, hemp museum and erotic museum.
There are several diamond factories in the city, five of which offer free guided tours showing diamond-cutting and polishing. The tours are free and are usually conducted 9 am to 5 pm every day, but it is recommended to ring ahead for details.
To experience the Dutch taste, visit one of Henri Willig's famous cheese farms or order our excuisite Gouda cheese.