Multatuli Hotel Amsterdam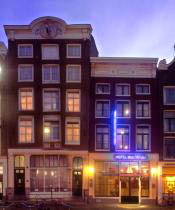 Named after the 19c. Dutch writer who in then colonial Netherlands has drawn the larger public attention to the plight of the colonized people, three star Multatuli is a simple, nice small hotel near the station.
Location
Hotel Multatuli is located at the busy Prins Hendrikkade street, opposite Amsterdam Central Station, within 8 minutes walk from the station. You may walk with your luggage from the platform to the hotel's reception - you will have just two streets to cross.
Hotel Services
While inside, you will notice that Hotel Multatuli has the aesthetics of a provincial hotel somewhere from the past. It already starts with the reception, strangely situated a few steps higher and continues in hotel's rooms. But if you overlook its outmoded looks - the hotel is impeccably clean; the rooms have decent size, good beds, they are all air-conditioned; there is TV, mini-bar and a telephone in each room. All rooms have a bathroom – a shower or a bath.
The hotel has single, double, twin and triple rooms. All the hotel's amenities are at the surcharge - breakfast, internet, telephone (even if you are phoned at the hotel!), mini-bar. The Multatuli hotel has a lift so you will not have to climb with the luggage up the steep stairs (a rarity in small Amsterdam hotels). The hotel's staff is forthcoming and helpful. 24-hrs reception will help you with everything you need.
Dining
The hotel has a small restaurant, serving simple tasty bar meals. You may also have a drink there.
The feel
Multatuli feels like a nice family boarding house. Whereas its interior is may be a bit dull, Multatuli prices are not blown up, the hotel is very clean and its staff friendly. Overall - a good centrally located place to stay near the old Amsterdam city centre.
Use the form below to book this hotel or search for available rooms and best price:
Book this hotel or check availability via Booking.com
Address
Multatuli Hotel Amsterdam
Prins Hendrikkade 12
1012 TL Amsterdam
The Netherlands

Multatuli Hotel Amsterdam on the map