Amsterdam Central Station Hotels
The most busy communication intersection area in Amsterdam. The vicinity offers the traveler a choice of several good Central Station hotels in Amsterdam of different class and style. We have selected the most interesting among them:
Hotels directly at the Central Station:
Damrak 1-5, 1012 LG Amsterdam
The four-star Victoria Hotel is a workhorse among the Amsterdam luxury hotels. Very conveniently placed in the proximity of the Centraal Station – Amsterdam's central railway station . All the facilities you need plus very good service. No nonsense hotel, especially for a short visit or business trip.
Stationplein 49, 1012 AB Amsterdam
Placed on the Station Island, with its buildings adjoining to the station, the three star Amsterdam Ibis Centre is in this aspect unique. If you arrive by train just for a short stay, it saves you a lot of your visit time, which otherwise you would have to use for transfers. On the outside - just two simple modern architecture blocks, inside Amsterdam Ibis Centre is clean, functional and friendly. Its reasonable rates make it one of the best choices in the area.
Hotels near Central Station Amsterdam:
Kattengat 1, 1012 SZ Amsterdam
Located near Amsterdam Central Station and is just a short walk from the fashion district 'De Negen Straatjes', the historical Jordaan and Dam Square. The Renaissance Amsterdam hotel has 402 Deluxe & Club rooms and 6 luxurious Suites. All the rooms featured in a contemporary design.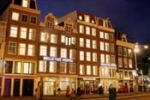 Martelaarsgracht 10, 1012 TP Amsterdam
This cheap Amsterdam hotel is based in three adjoining houses connected inside, almost faceing the Central Statio. However it is on another side than the Red Light District. More expensive than most of cheap hotels, Ibis Styles Hotel offers charm and comfort worth the surcharge. Its interior is very basic, but it feels clean and modern with its modern furniture, ambient lighting and small elegant architecture details.
Prins Hendrikkade 23, 1012 TM Amsterdam
A small cheap Amsterdam hotel across the street from the Amsterdam Central Station, decorated inside with an old railways theme. The rooms are small, have good beds and modern bathrooms. The A-train hotel is known for its good service. The hotel has a room to store your luggage. If you arrive to Amsterdam for just couple of days – this is your budget choice, it will save you time and money.
Prins Hendrikkade 59-72, 1012 AD Amsterdam
A luxurious five star Barbizon Palace is situated opposite to the Central Station at the edge of the Red Light district, close to the Chinatown. An Amsterdam centre hotel so do not expect a real palace in this lively, exotic spot. NH Barbizon is just a good, quiet and well equipped hotel, known for its excellent service.
Prins Hendrikkade 12, 1012 TL Amsterdam
This small three star budget hotel feels like a nice family hostel. Its interior is modest, but so are its prices. The rooms at Multatuli have decent size, good beds and they are impeccably clean. The hotel's staff is forthcoming and helpful. Located in front of the Central Station, Multatuli Hotel in Amsterdam is a good starting point to explore the city.
Prins Hendrikkade 52-57, 1012 AC Amsterdam
A laid-back, small but very complete Amsterdam centre hotel with a restaurant and a bar. Set opposite the Central Station and on the edge of the Amsterdam Red Light District. Prins Hendrik Hotel has not only single and double rooms, but also triple, quadruple and quintuple rooms – economical choice if you travel in a group of people.
Nieuwezijds Voorburgwal 50, 1012 SC Amsterdam
Placed in at the busy street, with trams and buses, just ten minutes walk from the Central Station and five minutes from the Dam square and Red Light District, this friendly middle size Amsterdam centre hotel belong to the Westcord hotels network. Less glamorous than its bigger brothers, this modest, warm hotel is a good solution for a short stay in the Amsterdam old town.
Damrak 93-94, 1012 LP Amsterdam
Hotel De Roode Leeuw offers rooms in a monumental building that dates back to the 15th century. Nice Amsterdam centre hotel 50 meters from Dam Square. The hotel can lay claim to being a stalwart part of Amsterdam's history. Each room features free Wi-Fi and double-glazed, soundproof windows.
Amsterdam Central Station - Centraal Station
on the map