Stadsschouwburg in Amsterdam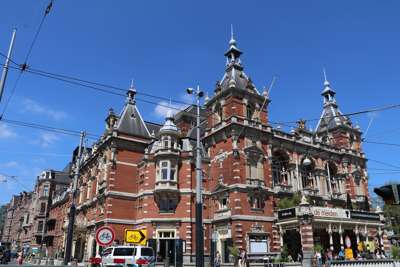 While entering the Leidseplein square, the conspicuous neo-renaissance architecture of the Municipal Theater can't be missed. Even more so because the street musicians that take advantage of the great acoustics of the arcade in front of the building. The Municipal Theater is the home of the theater group Toneelgroep Amsterdam, one of the most influential theater companies in the Netherlands.
A Short History of the Municipal Theater
There has been a theater on the square since 1774. It burnt down by a firework accident and a new theater was built at the same spot. The neo-classical look of the old theater was considered old-fashioned in 1894 the architects build the new Municipial Theater in neo-renaissance style. Until quite recently the theater was also the place to see opera, but nowadays opera productions are staged at the newly-build Music Theater.
The Architecture of the Municipal Theater
The Stadsschouwburg is built in neo-renaissance style. The horseshoe-shaped auditorium seats 1200 visitors and is designed like an eighteenth-century Court Theater. There used to be different kinds of seats for the different ranks of society and a special box for the king. The beautiful entrance, the grand stairs, the velvet red curtains, golden chandeliers and magnificent wall paintings conjures up an atmosphere of fairy-tales and nineteenth-century luxury.
Theater Group Amsterdam
Toneelgroep Amsterdam is the biggest theater company in the Netherlands. Artistic director Ivo van Hove is leading the company since 2001. Theater Group Amsterdam has become famous for their ability to play classical masterpieces as if they were written yesterday, and for their daring choices of modern plays. Talented stage managers from the entire world are invited to create their performances with the group.
Stadsschouwburg tickets booking
Theater tickets can be bought at the box office at Leidseplein 26
Telephone: +31(0)20 624 23 11 (Monday till Saturday 12.00 - 18.00)
Stadsschouwburg opening hours
Monday to Saturday: 10am to 6pm or until the start of performance,
On Sundays and public holidays they the Stadsschouwburg opens 2 hours before the start of performance.
How to get to Stadsschouwburg
There are two parking garages in the vicinity: Europarking, 250 Marnixstreet and Byzantium, Tesselschadestraat 1G.
A lot of trams and busses stop at the Leidseplein:
From Central Station: trams 1, 2 and 5, and busses 170 and 172.
From the East or West side of the city: trams: 6, 7 and 10.
Public transport runs frequently until 00.15. After that there are less frequent night busses.
Address
Contacts

Stadsschouwburg in Amsterdam
Leidseplein 26
1017 PT Amsterdam
The Netherlands


Tel: +31 20 6242311

Stadsschouwburg in Amsterdam on the map