Museum Kromhout in Amsterdam
More a collection of ship engines, among them famous diesel engines built by the Dutch firm Kromhout, used for longer than a century in small ships and yachts, this museum uses sometimes name Machinekamer (Engine Room), but its official full name is Museum Shipyard "'t Kromhout", as its engines collection is located side by side with working even now, small "Van Amerongen" shipyard.
A word of history
The Kromhout shipyards history started on May 11, 1757, when wealthy Amsterdam lady named Neeltje Hendrikse de Vries, bought a piece of land for her husband shipbuilder Doede Jansen Kromhout on one of the former marshes, now drained into new islands near Amsterdam.
The second half of the 19th C. and the fast industrialization brought fast changes to the shipbuilding. Previously wooden sailing ships were made at the time from iron, powered by steam engines, illuminated by electricity. At the end of the 19th C., Kromhout shipyards grew, building hundreds of ships and producing engines for them. A small Kromhout 12 HP engine became a legend for its regular rhythm of work and its reliability. In the beginning of the 20th C. Kromhout shipyards expanded and were located on the other side of the Ij, in the North of Amsterdam.
Today, because of the immense growth of Amsterdam the original historical location of the Kromhout shipyard at Hoogte Kadijk, is to be found not far from the inner city, in the Scheepvaartmuseum area.
The museum is run by a circle of friends, shipbuilding fanatics, often former Kromhout employees.
The feel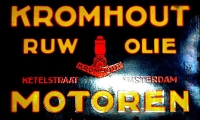 Housed in a beautiful 19th C. wrought iron hall, which used to stand in Amsterdam where now the Concertgebouw building is located, and had been taken apart and moved here to create space for the famous concert hall, this old-fashioned engines collection smells sea water, oil and iron. It is fun to visit for every shipbuilding aficionado or a kid dreaming about distant sea travels.
When the weather is good, an interesting view on some lesser known parts of Amsterdam can be seen from the shipyard's quay.
Open
Every Tuesday from 9:30 to 15:30
Every 3rd Sunday of the month from 12:00 to 16:00
Admission
Adults - € 5,-; children – free admission
How to get there
Walking: from Central Station go east along Prins Hndrikkade for 15 minutes
By bus: 22, 42 or 43 and exit on Kadijksplein stop;
By tram: from city center take tram number 10 and exit on Hoogte Kadijk stop.
By car: if you drive on the A10 ring from direction Zaanstad: exit S 116 (IJ-tunnel); if you drive from direction Utrecht/Den Haag: A 10 exit S 114, drive straight through Piet Heintunnel, after the tunnel turn right with the road but stick to the left lane of traffic and immediately after turn left into the Kadijksplein; park your car there (metered parking); walk 5 minutes to the museum
Museum Kromhout in Amsterdam on the map