Pijpenkabinet – Pipe Museum in Amsterdam
When political correctness threatens with imposing a strict ban on smoking all over Amsterdam, this museum about the pleasures of smoking would seem like defiance. But in reality this is a scientifically systematic exhibit of more than 2 thousands pipes, organized chronologically from pre-Columbian pipes, through Indians of South and North America, ending with Western civilization – Europe an America since the end of 15th C. until today.
During the Dutch Golden Age of 17th C. smoking pipe was a pleasure but also a symbol of status, a visible indication that you could afford it, a sign of an individual male independence. Only poor manual workers or servants did not smoke, every man of some standing did. Longer the pipe, more important a man was. Today, Dutch ceramic pipes are archeological finds, rarely found unbroken.
A word about the collection
People who smoke often have several pipes, sometimes more than five or ten. Pipe Museum started as passion of one man - Don Duco started in 1969 its pipe collection, which grew to the most important museum of its sort in Europe. This unique pipe institution has been first exhibited in Leiden and in 1995, the museum moved to Amsterdam.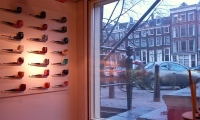 Today, the collection consists of 20 000 pipes, therefore only a fragment of it may be shown. The Pijpenkabinet has been recognized as a specialist historical collection, and its creators Don Duco and Benedict Goes, an authority in this field. And although smoking of tobacco is in serious retreat all over the Western World, the Pijpenkabinet grows and enlarges – last years it took over 15 collections from other institutions.
The feel
You enter the museum through Smokiana, a remarkable pipe shop located in the house basement. The museum collection is exhibited above it - in the 17th C. Dutch townhouse, with beautiful interior and truly exquisite furniture of the epoch. The exhibit has been well presented and perfectly lit. While we missed visibly placed information at exhibited objects, one of the curators is always present at the museum, with all guidance necessary.
If you are a pipe addict, or just a history buff – this beautiful museum is highly recommended. And… this is probably the only museum in the world, where you may still smoke pipe.
Open
Wednesday – Saturday, 12 a.m. – 6 p.m.
Admission
€ 5,- (guided visit)
How to get there
from Leidsestraat – walking south along Prinsengracht – 2 minutes
- from Central Station – Stop & Go bus to the door, tram: 1, 2 or 5 (exit on Prinsengracht stop)
- by car: from the A10 ring take an exit S108 Oud Zuid and drive direction Rijksmuseum; park your car in the Parking Byzantium (close to Leidseplein: Tesselschadestraat 1G) or under the Museumplein (Van Baerlestraat 33B), walk 10 minutes
Pijpenkabinet – Pipe Museum in Amsterdam on the map