Historical buildings in Amsterdam
Amsterdam was an active international center for business and culture for centuries. And continues to be so until nowadays. So there are many interesting historical buildings that were and in some cases still are used for business, government, culture, transport and religion.
---
Built in 1640's, originally as the city hall. It is famous for it's impressive decorations. Renowned sculptors and painters such as Rembrandt and Ferdinand Bol contributed to the interior.
Today is one of the three Palaces which the State has placed at the King's disposal. It is used for royal and govermental events. It is also possible to book a guided tour through its halls and chambers.
Location: Dam Square
---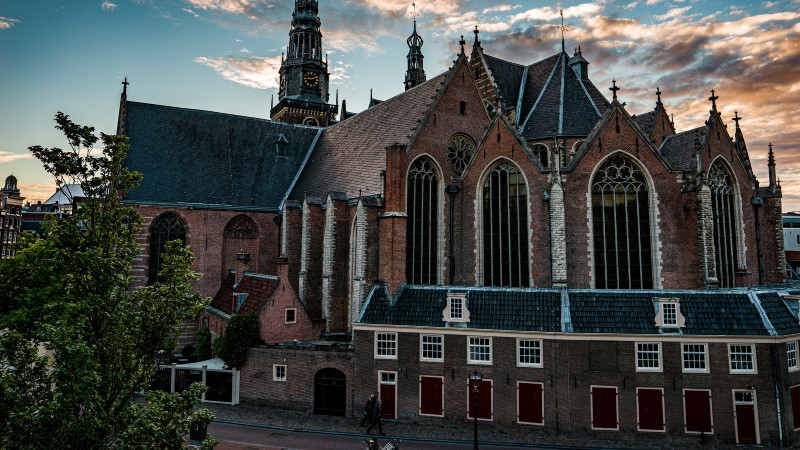 Is the oldest and for centuries was the most important church in Amsterdam. Although it lost this title to the Nieuwe Kerk, it still remains one of the grand sights to visit. Standing in the church's main entry, you may be amazed to see a coffee shop just left to it, windows with sex workers in front of it and the Princess Juliana Nursery School right of it. Quite a contrast.
Location: Red Light District
---
Similar to Gothic churches of France. It was built circa 1400 but many changes have been made since. It was reduced to ashes in 17th century and has been restored exhibiting the original style features even though it remains tower-less.
Today, it is the most important church in the Netherlands. Dutch monarchs have been inaugurated and married here since 1814. In between coronations and weddings, the Amsterdam New Church is the venue for the temporary exhibitions on art and history.
Location: Dam Square
---
The famous skinny bridge across the river Amstel and opposite of the Carré theatre. It has been rebuilt more times during history. But the name stuck. The first bridge was very narrow so the locals called it Magere Brug.
The centre-part is opened many times daily in order to let river traffic pass.
At night many lights illuminate the bridge, then it becomes a romantic place, popular with lovers and photographers.
Location: Amstel River between Keizersgracht and Prinsengracht
---
Since its opening in 1867, the Amstel Hotel has been the most prestigious hotel in town and probably in the whole Netherlands. It comes across as beautiful and luxurious, quietly standing at the bank of the Amstel river, with a small square behind. Its interior is full of Italian marble, warm in colours, plushy and formal. Rooms are spacious and completely equipped, with excellent bathrooms.
Location: Amstel river and Sarphatistraat
---
While this hotel may not suit the budget of many travellers, those who can afford to spend should consider this Art Noveau monument as an interesting place to lay their heads in the city centre. Built in 1900, the hotel's rich history has included playing host to the famous spy Mata Hari's honeymoon.
Location: Leidseplein
---
Originally built as a sactuary for the Begijntjes, a Catholic sisterhood who lived like nuns although they took no monastic vows. Today, houses in Begijnhof are still occupied by single women. It is an enclosed courtyard dating from the early 14th century. It is cut off from Amsterdam's traffic noise and still retains a sanctified atmosphere.
Includes the Amsterdam's oldest surviving house Het Houten Huis dating from around 1420.
Location: Close to Spui square
---
In an old city like Amsterdam, the Municipal archives are enormous. Includes archives of companies like Heineken or De Bijenkorf, institutions such as Concertgebouw and many historical persons. Also collection of drawings, maps and photographs.
The building was inspired by the North American architecture of the time. It has a concrete structure covered with granite with oak, granite, iron and ceramic interior.
It is with a lot of natural light and rich interior décor. Present reconstruction brought the building closer to its original state removing some of the effects of some previous adaptations. Today, people from Amsterdam like the building and call it after its creator - De Bazel.
Location: Close to Rembrandtplein
---
De Bijenkorf (The Beehive) is not to be missed. It is an up market, luxury department store. Do not expect a complete range of products. The choice is selective, sharp and intelligent.
Location: Dam Square
---
Photos (all images have been cropped):
Wikimedia Commons (https://creativecommons.org/licenses/by-sa/4.0/deed.en):
Pattie007 - municipal archive
Jvhertum - Hampshire hotel
C messier - Nieuwe Kerk